 ABOUT DEATH AT THE DIVEBAR
From the makers of Hunt A Killer, the world's #1 murder mystery subscription. Over 2 million boxes shipped to murder mystery fans all over the world.
Solve the mystery in a single sitting.
An authentic and immersive investigation. You'll feel like you are solving a real-life murder mystery!
Decode ciphers, piece together clues, consider all the evidence, and solve the crime. It's like an escape room delivered right to your door.
A great option for date night, game night, teaming up with friends and family, or just playing on your own.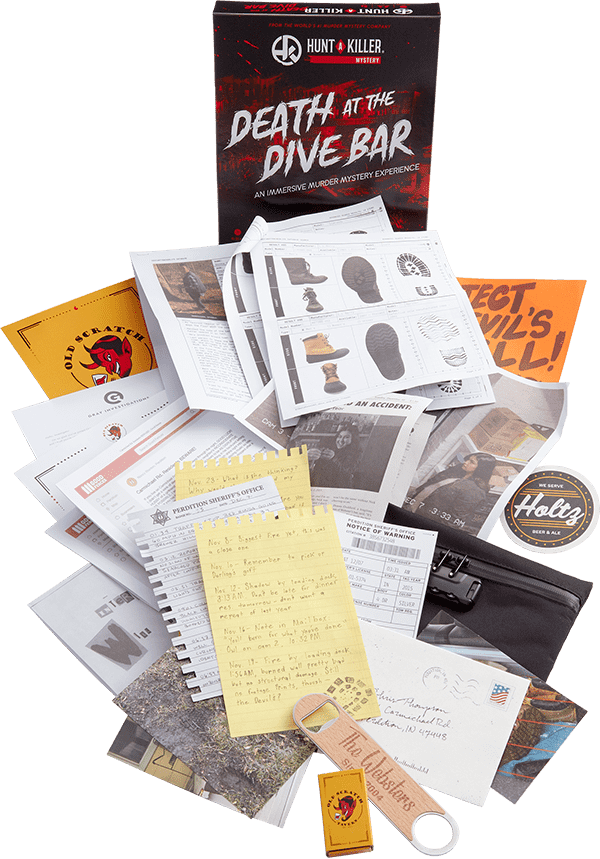 BECOME A DETECTIVE
A murder at the local dive bar. A mysterious, masked figure. A small town full of suspects. When owner Nick Webster falls from a cliff behind his roadside tavern, his death is ruled an accident. But one of his employees suspects foul play, and she needs your help to prove it.
CHALLENGE YOURSELF
Players channel their inner detective to investigate the murder at the Old Scratch Tavern. Uncover the motives of each suspect through ciphers, clues, and puzzles that progress the story to its thrilling conclusion. Realistic evidence and documents guide players through a challenging and immersive experience with tons of twists and turns.
‍
MSRP: $29.99
Play time: 45-60 minutes
Number of players: 1-5 players
Recommended age: 14+
DO YOU HAVE WHAT IT TAKES?
Old-fashioned detective work
Sort through notes, create timelines, pore over evidence, and confirm alibis to crack the case and catch the killer.
Crack the codes
Hunt A Killer is packed with puzzles and clues that are not for the faint of heart, but the reward is well worth the effort. Every puzzle will unlock details about the events and characters in Death at the Divebar.
Every detail matters
Our team of true-crime aficionados has meticulously created a living, breathing world where you become a part of the story. Each suspect has a detailed backstory, distinct handwriting, and other forensic details that will help you eliminate them from your list of suspects.
An All-In-One Experience
Solve an entire investigation in one sitting. This is perfect for family gatherings, vacation activities, or a true-crime date.
Handcrafted Evidence
This box is packed with evidence that you can actually touch and feel. Everything from the autopsy report to the items found at the crime scene are designed to place you in the role of lead detective in a homicide investigation.
First-In-Class Experience
Hunt A Killer is the world's premiere murder mystery company. Since 2016, we have been putting you in the detective's seat and challenging you to Hunt A Killer.
Help When You Need It
Even the best detectives need help now and again. Each case has a dedicated hints page that offers non-spoiler hints for each item in the box as well as solutions if you are really stuck.
EXCLUSIVE EPILOGUE
Already solved the case? Enter your email below to receive an exclusive epilogue with more details about the resolution of the crime. Check your email for the link to the epilogue.
WARNING: Contains spoilers! Do not read the epilogue until you've solved the case!
By submitting your email, you agree to the Hunt A Killer Terms of Service and Privacy Policy. Additionally, you are opting in to receive marketing emails. You may opt out at any time.
If you do not see the email form, please disable your ad-blockers and refresh the page.
WANT MORE MYSTERIES?
Click here
 to subscribe to Hunt A Killer: Mystery and get new mysteries shipped to you every month.