Regular price
Sale price
$29.99
Unit price
per
Sale
Sold out
Old Scratch Tavern seems like your average small town dive bar…until the owner, Nick Webster, falls from a cliff behind his roadside establishment. And though the authorities rule his death an accident, one of Nick's loyal employees isn't so sure.
This gripping Death At The Dive Bar murder mystery is filled with suspense: a suspicious masked figure, a small town made up of suspects and secrets, and a scant file of police evidence. Channel your inner detective to unravel a twisted tale of foul play and catch a killer. The devil is in the details in Death At The Dive Bar!
Difficulty

Challenging Ciphers: At least one challenging code or cipher
Product Details

A death at the local dive bar. A mysterious, masked figure. A small town full of suspects. When owner Nick Webster falls from a cliff behind his roadside tavern, his death is ruled an accident, but one of his employees suspects foul play and she needs your help to prove it.

To crack the case, you'll have to:

Use old-fashioned detective work to verify alibis, create timelines, and discover details hidden amongst the case notes.
Every puzzle will unlock details about the events and characters that were involved in the murder of Nick Webster.
Solve puzzles, ciphers, and codes that unlock important clues and character information.
Examine suspect backstories, handwriting, and forensic evidence to eliminate them from your suspect list..

This game is perfect for:

Transforming ordinary game night into a thrilling murder investigation
The true crime fanatic who has always wondered if they could solve a murder
Family gatherings, to play on the go, or date night

This box is packed with handcrafted notes, crime scene photos, autopsy reports, and even items found at the scene that make you feel like a real detective in a homicide investigation.

Death at the Dive Bar is an all-in-one game that can be completed in one sitting. Designed for 1–5 players and 45–60 minutes of gameplay, use it as the central activity at a murder mystery game night, as a creative date requiring teamwork, or as a fun activity for one! It's also a great gift option for the true crime, mystery game lover in your life.

We rate this game as two out of five stars in difficulty and best for players aged 14 years and older. It's enough to challenge you without being impossible to solve; and, if you get stumped, just reference our Player Resources for a helpful hint.

All images are for illustration purposes. Actual product may vary.
Share
View full details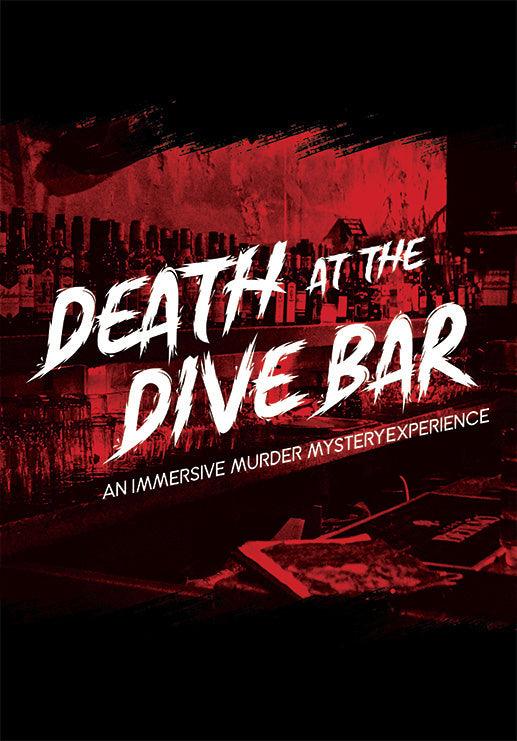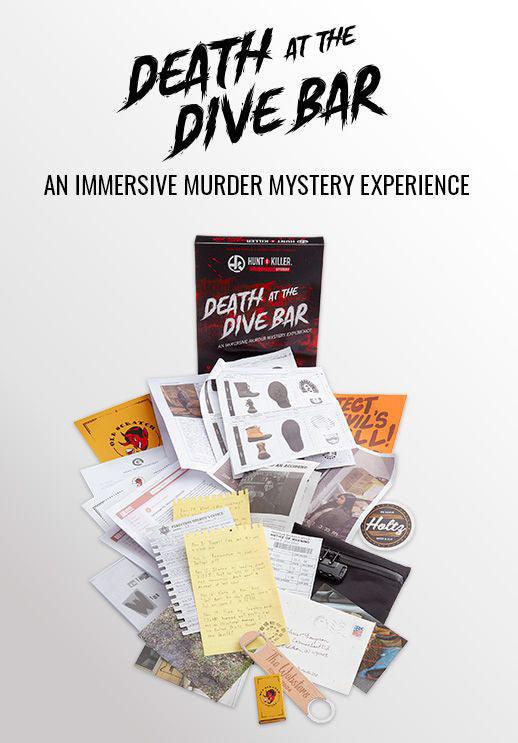 EXCLUSIVE EPILOGUE
Already solved the case? Enter your email below to receive an exclusive epilogue with more details about the resolution of the crime. Check your email for the link to the epilogue.
WARNING: Contains spoilers! Do not read the epilogue until you've solved the case!
By submitting your email, you agree to the Hunt A Killer Terms of Service and Privacy Policy. Additionally, you are opting in to receive marketing emails. You may opt out at any time.
If you do not see the email form, please disable your ad-blockers and refresh the page.