NEWEST SEASON: RENFAIRE REGICIDE
The 13th annual White Hilt Renaissance Faire is in full swing, but the King has been found murdered… Will you help us find the killer?
Here's a sneak peek inside the first episode of Hunt A Killer. After you receive the clues, it's up to you to piece it all together. With every puzzle you solve, the plot thickens and you get closer to revealing the murderer. "Insanely fun and addicting."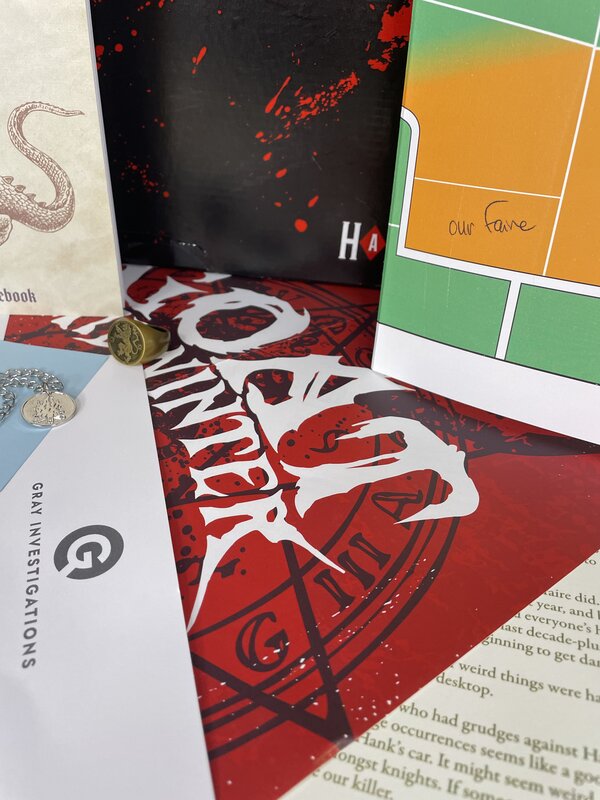 Enter the world of Hunt A Killer in our newest murder mystery season: Renfaire Regicide. This realistic murder mystery game delivers high-quality, hand-crafted evidence that brings a fictional case to life and lets you put on your detective's hat in a murder mystery game that will test your skills. Can you solve a mystery with Hunt A Killer?
The king of a local renaissance festival is found murdered, and a volunteer at the faire needs your help to find the killer and save the renaissance faire.
Hank Maartens, the leader of a local renaissance festival, is found murdered and half-burned in the iron smith's forge.
Meticulously examine documents, evidence, and private correspondence to find details the police missed.
The police have made an arrest: Sam Langstar, the faire's smithy, who got into a suspicious fight with Hank the day of the murder.
Artemis Troy doesn't believe the setup, thinking it's far too clean. She believes something else is afoot.
Set out to solve the real mystery of Hank's murder, and hopefully save the faire itself.
THAT'S ALL JUST IN EPISODE 1!
6 gripping episodes in total, each with carefully crafted clues. Complete your season now.
EPISODE 1
Hank Maartens, the leader of a local renaissance faire, is found stabbed and half-burned in the iron smith's forger.
EPISODE 2
By developing her own list of suspects, Art has unofficially reopened Hank's murder case. After doing so, she receives a letter from a mysterious figure who attempts to dissuade her from investigating.
EPISODE 3
The faire moves on with business as usual, despite Art's investigation, and the annual tournament is held. All new puzzles that provide important clues to mid-season twists.
EPISODE 4
Not every character is keeping murder as a secret, but there are plenty of secrets surrounding the faire. Help break into chat logs and uncover other conspiracies around the faire.
EPISODE 5
Discover a new set of maps, and uncover characters' secret plans for the faire.
EPISODE 6
Use items and Shakespearean clues to catch the killer before the remaining suspects leave town!
Sort through evidence, piece together clues, and solve the case in this immersive murder mystery subscription game.
The original Hunt A Killer subscription game experience!
Pore through case files full of clues. Review evidence over the course of six parts. Investigate the mystery case one part at a time. Catch the killer!
Join an exclusive community of detectives to solve a mystery game. Limited memberships now available.
Don't forget to use coupon code AUDIO at checkout to get your discount. Click the button below to get started.