SOLVE THIS CASE: MURDER ON ICE
When her figure skating coach is found murdered by her own skate blade, Sofia de la Torre is the prime suspect. But she didn't do it…can you help clear her name and find the real culprit?
Here's a sneak peek inside the first episode of Hunt A Killer. After you receive the clues, it's up to you to piece it all together. With every puzzle you solve, the plot thickens and you get closer to revealing the murderer. "Insanely fun and addicting."
Enter the world of Hunt A Killer in our newest murder mystery season: Murder On Ice. This realistic murder mystery game delivers high-quality, hand-crafted evidence that brings a fictional case to life and lets you put on your detective's hat in a murder mystery game that will test your skills. Can you solve a mystery with Hunt A Killer?
A famous figure skating coach has been found dead on the edge of the rink, and his former pupil needs your help to bring his killer to justice.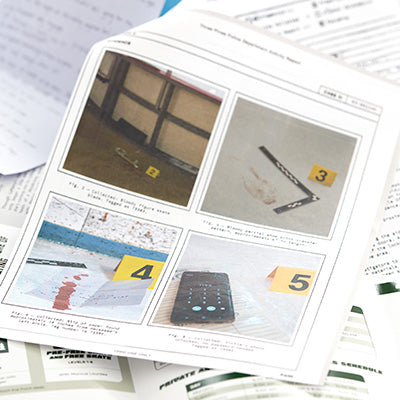 LaPalma's devastated former pupil Sofia de la Torre needs your help to dig into motives and relationships to determine who might be guilty of murder.
Meticulously examine documents, evidence, and private correspondence to find details the police missed.
Analyze documents, audio recordings, and more to re-create the events that happened on the night of Nathan's death.
Touch and examine personal belongings of both the victim and the suspects.
Uncover the tangled web of corruption, resentment, and lies that led to LaPalma's death and to discover the identity of the killer before they strike again.
THAT'S ALL JUST IN EPISODE 1!
Mallory Rock has 6 gripping episodes in total, each with carefully crafted clues. Complete your season now.
EPISODE 1
Skater Sofia de la Torre reaches out and asks you to help her solve the murder of her mentor, Nathan LaPalma. Familiarize yourself with the location and each suspect's background and potential motives for murder.
EPISODE 2
When it comes to solving a murder, every detail matters. Establish a timeline of events that transpired on the night of Nathan's death.
EPISODE 3
One of the perks of being a P.I. is you're free of the process and paperwork of the police. Chase down a new lead and start narrowing down your suspect list.
EPISODE 4
A breakthrough in the case leads to more questions than answers. Your investigation has ruffled some feathers, time to dig deeper.
EPISODE 5
Back at the rink, Sofia receives a mysterious, threatening note.
EPISODE 6
Pressure builds as you get closer to the truth. Put together the final clues to bring Nathan's murderer to justice.